Welcome to the Tricks Dedicated to Witches Wiki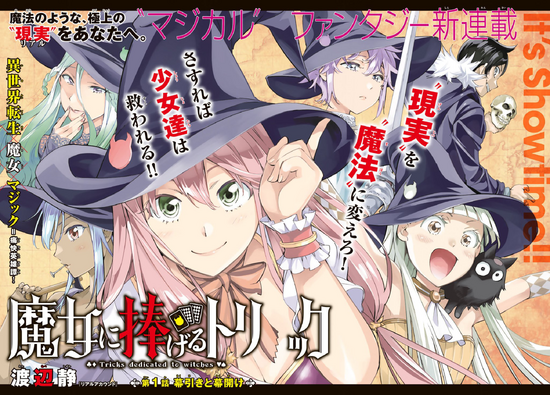 Manga • Characters • Administrators • Recent Changes • New Pages • Help Wiki
Welcome to the Tricks Dedicated to Witches, a Wiki dedicated to everything about the manga series Tricks Dedicated to Witches (Majo Ni Sasageru Trick, 魔女に捧げるトリック, For My Next Trick, I'll Need a Witch, Witch Trick) that anyone can edit. Please help us by creating or editing any of our articles!

We currently have 358 edits to 37 articles and 34 images on this wiki.
Introduction
In 2021, Harry Makito, genius magician, was holding a one time only retirement show in Tokyo when he burned to death in an unexpected accident. He was 17 years old. Or so one would think. But he lived, finding himself reincarnated 400 years earlier in Medieval Europe during the age of the Witch Trials! Now he fights against the church, which unjustly brands women as witches, with his tricks disguised as miracles. It's like real magic!
Contribute to the Tricks Dedicated to Witches Wiki!
Trouble getting started?
If you are new to wikis, check Help:Getting Started
Don't be afraid to just jump in and start it! Others can edit and improve whatever you make.
Check out the community portal to see what the community is working on, to give feedback or just to say hi.
Help the wiki by editing article stubs and creating wanted pages.
Affiliates
If you would like to become an affiliate of the Tricks Dedicated to Witches Wiki, contact us.
Majo Ni Sasageru Trick / Tricks Dedicated To Witches Wiki / 魔女に捧げるトリック / For My Next Trick, I'll Need a Witch / Witch Trick
Join Us on Discord
Featured Video
Latest Volume
Twitter